De Smockelaer, a special wedding location in Limburg
Are you looking for an original wedding location in South Limburg? Romantic, unique, special and preferably where you can spend the whole day? Then we would like to present our two unique wedding locations in South Limburg and Belgium.
At the Smockelaer you say 'Yes I do' to each other on an original location in South Limburg, and then toast a happy future together. Enjoy a delicious lunch or dinner in our restaurant and spend the night in our luxury bridal suite or spacious group villa. De Smockelaer provides a wedding party that you will remember for a long time to come!
Special wedding location on a luxury estate in Limburg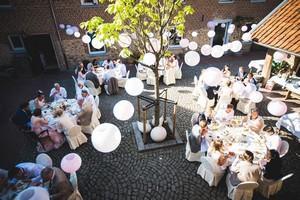 De Smockelaer offers official wedding locations: Villa A gen Beuke or the Vakwerkhuys on the Mechelen Estate. These official wedding locations are not just wedding locations in Limburg. The luxury accommodation A gen Beuke is located on top of the Schweiberg with a beautiful view over the Geuldal and the Vakwerkhuys is located in the breathtaking Limburg hills.
The luxury accommodations offer you the opportunity to give each other a yes in an informal and private setting. You can then toast, dine together and, if desired, even spend the night. Everything under 1 roof, with a select group. If you would like to give a big and sparkling party, then our accommodations de Smockelaer or La Mairie a few kilometers away from A gen Beuke and the Vakwerkhuys offer you this possibility.
Getting married in an idyllic church or under the trees
An old church has its charms to get married. That is possible in Teuven just across the border in Belgium. When the weather is nice, you can promise each other eternal fidelity under the foliage of the trees. And that must be celebrated! While you give each other the romantic 'Yes I do', we dot the i's and cross the t's for your wedding party. Wedding cake? Check. Champagne? Check. We are ready for it!
Spend the night in our romantical bridal suite
It is not necessary to drive all the way home after a wedding party. Both the A gen Beuke wedding location and the Vakwerkhuys offer you the opportunity to spend the night in a romantic bridal suite.
That's why Smockelaer
Official wedding location
Wedding, parties and overnight stays in one location
Unprecedented hospitality